A wildfire started yesterday in the mountainous terrain of Valparaiso, Chile. The wildfires extended rapidly and burned at least 500 homes, 11 people have been killed and 5000 people have been evacuated.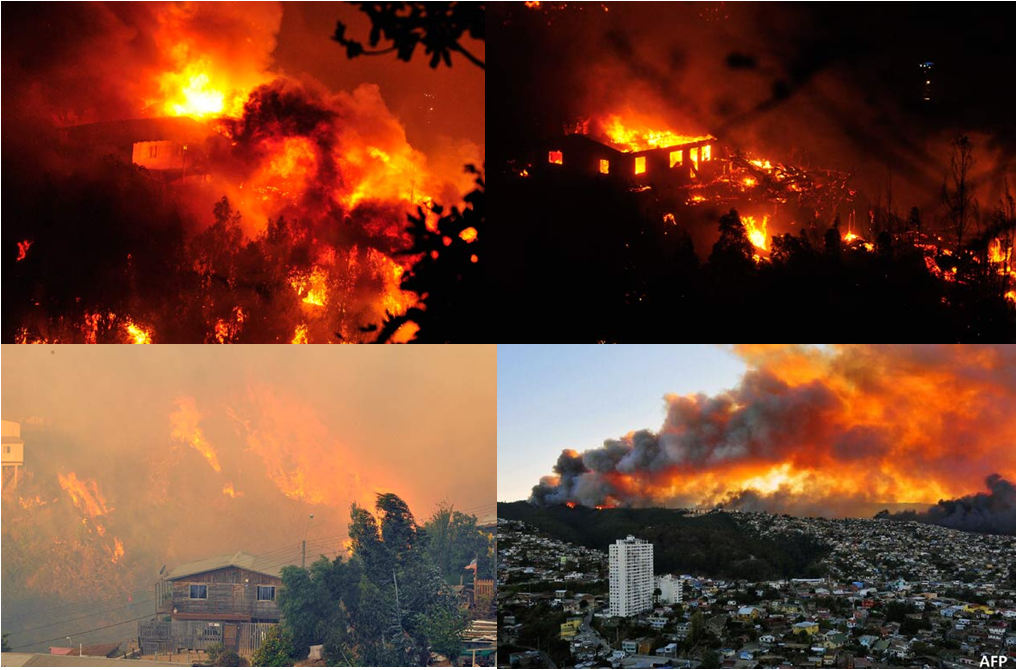 A translation of the latest report:
Since yesterday, the authorities have disposed of all resources for the work of control of the incident taking place yesterday in the port city. Police have confirmed the deaths of eight people.
12 aircraft are fighting the fire.
Since this morning, nine helicopters and three aircraft already deployed in fire fighting work since yesterday affecting hills of Valparaiso. In the next few hours the arrival of six more aircraft are expected.
From 7:30 in the morning in ONEMI are gathered representatives of agencies involved in coordination to address the emergency, headed by Deputy Interior Minister Mahmud Aleuy, the Assistant Secretary of the Armed Forces, Gabriel Gaspar, director the National Emergency Office, Ricardo Toro and the Executive Director of CONAF, Aaron Cavieres.
In total it is estimated that more than 3,500 CONAF, Fire, PDI, Police, Army, Navy, and Samu ONEMI working to combat and control the emergency. In addition, features air resource and water trucks municipalities of Valparaíso, Viña del Mar, Villa Alemana and Esval.
According to the police report, 11 people are reported dead.
Currently, 800 acres consumed by this incident and reported 500 homes affected. The active site corresponds to the grid sectors 1 and 2.
ONEMI dispatched from the central level trucks with mattresses, blankets, water, masks, tents and food rations. Ongoing support to shipments of aid to the affected area is maintained.
Fire in Valparaiso: Airplanes and helicopters involved in firefighting