Moderator: S2k Moderators
Category 5

Posts: 1385
Age: 21
Joined: Tue Apr 18, 2017 4:01 am
Location: Baguio City / Benguet, PHL
*Earthquake Info(USGS):
•M 8.1 - 87km SW of Pijijiapan, Mexico
•Date/Time: 09-08-2017 04:49am UTC
•Coordinates: 15.068°N 93.715°W
•Depth: 69.7 km
---
Category 5

Posts: 1385
Age: 21
Joined: Tue Apr 18, 2017 4:01 am
Location: Baguio City / Benguet, PHL
http://ptwc.weather.gov/?region=1
TSUNAMI MESSAGE NUMBER 5
NWS PACIFIC TSUNAMI WARNING CENTER EWA BEACH HI
0653 UTC FRI SEP 8 2017
EVALUATION
----------
* AN EARTHQUAKE WITH A PRELIMINARY MAGNITUDE OF 8.2 OCCURRED
OFF THE COAST OF CHIAPAS, MEXICO AT 0449 UTC ON FRIDAY
SEPTEMBER 8 2017.
* TSUNAMI WAVES HAVE BEEN OBSERVED.

* BASED ON ALL AVAILABLE DATA... HAZARDOUS TSUNAMI WAVES ARE
FORECAST FOR SOME COASTS.
TSUNAMI THREAT FORECAST
-----------------------
* TSUNAMI WAVES REACHING MORE THAN 3 METERS ABOVE THE TIDE
LEVEL ARE POSSIBLE ALONG SOME COASTS OF

MEXICO.
* TSUNAMI WAVES REACHING 0.3 TO 1 METERS ABOVE THE TIDE LEVEL
ARE POSSIBLE FOR SOME COASTS OF
AMERICAN SAMOA... ANTARCTICA... COOK ISLANDS... ECUADOR...
EL SALVADOR... FIJI... FRENCH POLYNESIA... GUATEMALA...
KIRIBATI... NEW ZEALAND... SAMOA... TOKELAU... TUVALU...
VANUATU... AND WALLIS AND FUTUNA.
* TSUNAMI WAVES ARE FORECAST TO BE LESS THAN 0.3 METERS ABOVE
THE TIDE LEVEL FOR THE COASTS OF
AUSTRALIA... CHILE... CHINA... CHUUK... COLOMBIA... COSTA
RICA... GUAM... HAWAII... HONDURAS... HOWLAND AND BAKER...
INDONESIA... JAPAN... JARVIS ISLAND... JOHNSTON ATOLL...
KERMADEC ISLANDS... KOSRAE... MALAYSIA... MARSHALL
ISLANDS... MIDWAY ISLAND... NAURU... NEW CALEDONIA...
NICARAGUA... NIUE... NORTHERN MARIANAS... NORTHWESTERN
HAWAIIAN ISLANDS... PALAU... PALMYRA ISLAND... PANAMA...
PAPUA NEW GUINEA... PERU... PHILIPPINES... PITCAIRN
ISLANDS... POHNPEI... RUSSIA... SOLOMON ISLANDS...
TAIWAN... TONGA... VIETNAM... WAKE ISLAND... AND YAP.
* ACTUAL AMPLITUDES AT THE COAST MAY VARY FROM FORECAST
AMPLITUDES DUE TO UNCERTAINTIES IN THE FORECAST AND LOCAL
FEATURES. IN PARTICULAR MAXIMUM TSUNAMI AMPLITUDES ON ATOLLS
AND AT LOCATIONS WITH FRINGING OR BARRIER REEFS WILL LIKELY
BE MUCH SMALLER THAN THE FORECAST INDICATES.
* FOR OTHER AREAS COVERED BY THIS PRODUCT A FORECAST HAS NOT
YET BEEN COMPUTED. THE FORECAST WILL BE EXPANDED IF
NECESSARY IN SUBSEQUENT PRODUCTS.
RECOMMENDED ACTIONS
-------------------
* GOVERNMENT AGENCIES RESPONSIBLE FOR THREATENED COASTAL AREAS
SHOULD TAKE ACTION TO INFORM AND INSTRUCT ANY COASTAL
POPULATIONS AT RISK IN ACCORDANCE WITH THEIR OWN
EVALUATION... PROCEDURES AND THE LEVEL OF THREAT.
* PERSONS LOCATED IN THREATENED COASTAL AREAS SHOULD STAY ALERT
FOR INFORMATION AND FOLLOW INSTRUCTIONS FROM NATIONAL AND
LOCAL AUTHORITIES.
ESTIMATED TIMES OF ARRIVAL
--------------------------
* ESTIMATED TIMES OF ARRIVAL -ETA- OF THE INITIAL TSUNAMI WAVE
FOR PLACES WITHIN THREATENED REGIONS ARE GIVEN BELOW. ACTUAL
ARRIVAL TIMES MAY DIFFER AND THE INITIAL WAVE MAY NOT BE THE
LARGEST. A TSUNAMI IS A SERIES OF WAVES AND THE TIME BETWEEN
WAVES CAN BE FIVE MINUTES TO ONE HOUR.
LOCATION REGION COORDINATES ETA(UTC)
------------------------------------------------------------
PUERTO MADERO MEXICO 14.8N 92.5W 0548 09/08
SALINA CRUZ MEXICO 16.5N 95.2W 0551 09/08
ACAPULCO MEXICO 16.9N 99.9W 0552 09/08
SIPICATE GUATEMALA 13.9N 91.2W 0604 09/08
ACAJUTLA EL SALVADOR 13.6N 89.8W 0610 09/08
LAZARO CARDENAS MEXICO 17.9N 102.2W 0619 09/08
BALTRA ISLAND ECUADOR 0.5S 90.3W 0804 09/08
HIVA OA FRENCH POLYNESIA 10.0S 139.0W 1248 09/08
CHRISTMAS ISLAN KIRIBATI 2.0N 157.5W 1422 09/08
MALDEN ISLAND KIRIBATI 3.9S 154.9W 1426 09/08
FLINT ISLAND KIRIBATI 11.4S 151.8W 1426 09/08
PAPEETE FRENCH POLYNESIA 17.5S 149.6W 1450 09/08
RAPA ITI FRENCH POLYNESIA 27.6S 144.3W 1502 09/08
PENRYN ISLAND COOK ISLANDS 8.9S 157.8W 1505 09/08
TUBUAI FRENCH POLYNESIA 23.3S 149.5W 1510 09/08
RAROTONGA COOK ISLANDS 21.2S 159.8W 1609 09/08
PUKAPUKA ISLAND COOK ISLANDS 10.8S 165.9W 1619 09/08
NUKUNONU ISLAND TOKELAU 9.2S 171.8W 1652 09/08
PAGO PAGO AMERICAN SAMOA 14.3S 170.7W 1705 09/08
APIA SAMOA 13.8S 171.8W 1714 09/08
WALLIS ISLAND WALLIS AND FUTUN 13.3S 176.3W 1746 09/08
FUNAFUTI ISLAND TUVALU 7.9S 178.5E 1751 09/08
FUTUNA ISLAND WALLIS AND FUTUN 14.3S 178.2W 1812 09/08
TARAWA ISLAND KIRIBATI 1.5N 173.0E 1832 09/08
SUVA FIJI 18.1S 178.4E 1915 09/08
KAINGAROA CHATH NEW ZEALAND 43.7S 176.3W 1955 09/08
WAITANGI CHATHA NEW ZEALAND 43.9S 176.6W 1957 09/08
ESPERITU SANTO VANUATU 15.1S 167.3E 1959 09/08
ANATOM ISLAND VANUATU 20.2S 169.9E 2020 09/08
CAPE ADARE ANTARCTICA 71.0S 170.0E 2155 09/08
TSUNAMI OBSERVATIONS
--------------------
* THE FOLLOWING ARE TSUNAMI WAVE OBSERVATIONS FROM COASTAL
AND/OR DEEP-OCEAN SEA LEVEL GAUGES AT THE INDICATED
LOCATIONS. THE MAXIMUM TSUNAMI HEIGHT IS MEASURED WITH
RESPECT TO THE NORMAL TIDE LEVEL.
GAUGE TIME OF MAXIMUM WAVE
COORDINATES MEASURE TSUNAMI PERIOD
GAUGE LOCATION LAT LON (UTC) HEIGHT (MIN)
-------------------------------------------------------------
SALINA CRUZ MX 16.2N 95.2W 0541 0.48M/ 1.6FT 20
PURETO ANGEL MX 15.7N 96.5W 0517 0.29M/ 1.0FT 24
HUATULCO MX 15.8N 96.1W 0514 0.69M/ 2.3FT 12
---
S2K Supporter

Posts: 8405
Joined: Mon Sep 27, 2010 11:21 am
Location: Jacksonville, FL
WOW!! 8.1 magnitude quake. That is huge!!
Monitoring the 2020 Meteorological Summer Season and North Atlantic Hurricane Season from Northeast Florida
________________________________________________________________________________________
Fay 2008 Beryl 2012 Debby 2012 Colin 2016 Hermine 2016 Julia 2016 Matthew 2016 Irma 2017 Dorian 2019
---
Category 5

Posts: 1385
Age: 21
Joined: Tue Apr 18, 2017 4:01 am
Location: Baguio City / Benguet, PHL
Estimated tsunami arrival time map from PDC
---
Category 5

Posts: 1385
Age: 21
Joined: Tue Apr 18, 2017 4:01 am
Location: Baguio City / Benguet, PHL
---
The Pacific Ring of Fire not only generates the most earthquakes worldwide but the most TC's in the EPAC and WPAC and many other natural disasters. Not to mention the other Pacific basins in the CPAC and South Pacific. It's just a different world.
Remember, all of my post aren't official. For official warnings and discussions, Please refer to your local NWS products...
NWS for the Western Pacific
https://www.weather.gov/gum/
---
Category 5

Posts: 1385
Age: 21
Joined: Tue Apr 18, 2017 4:01 am
Location: Baguio City / Benguet, PHL
At least 61 people dead...
http://edition.cnn.com/2017/09/08/ameri ... index.html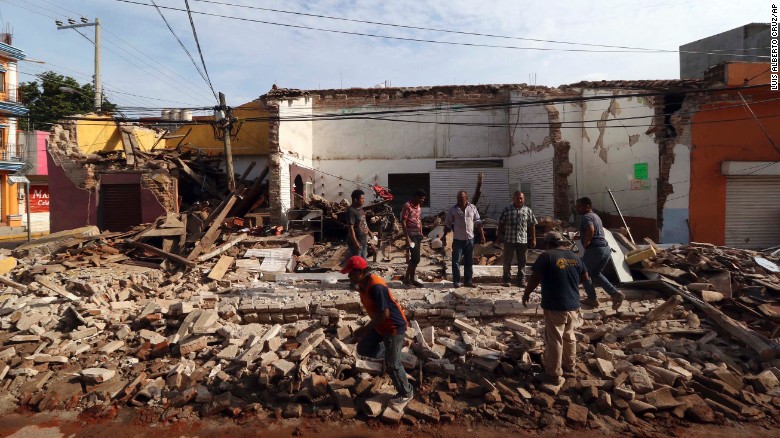 "(CNN)At least 61 people have died after the most powerful earthquake to hit Mexico in a century struck off the southern coast.
The magnitude 8.1 quake, which was felt as far as Mexico City and Guatemala City, was registered off Mexico's southern coast just as heavy rains from Hurricane Katia lashed the east. The epicenter was in the Pacific Ocean, some 600 miles (1,000 kilometers) southeast of the capital and 74 miles (120 kilometers) off the coast.
President Enrique Peña Nieto said the temblor -- felt by about 50 million people across the country -- was the strongest earthquake Mexico has experienced in 100 years. In September 1985, a magnitude 8.0 earthquake killed an estimated 9,500 people in and around Mexico City.
This one hit late Thursday, when many people were asleep. The states of Chiapas and Oaxaca, home to about 9 million people, are located closest to the earthquake's epicenter. They are two of the most impoverished areas in Mexico, and were likely hit the hardest."
---
---
Return to "Astronomy and Geology"
Who is online
Users browsing this forum: No registered users and 2 guests